Listen
"Sneak Close" (from STASH)

"Stash" (from UNRECOGNIZE)

"Holding On" (Geodesic Sunrise Mix by Lo.Freq.)
Shows
No upcoming shows at this time.
Buy
STASH by Cock and Swan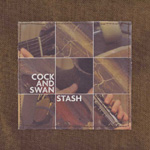 NOW AVAILABLE HERE
Limited Edition comes in a hand-aged, hand-stitched cloth-bound book and is lined with banana bark, lokta, and mulberry paper. Also includes bonus tracks, remixes, and download of album.
Standard Edition CD package and download are also available for pre-order.
UNRECOGNIZE by Cock and Swan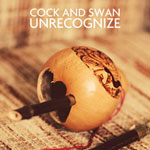 LP + Download - Buy ($10)
Download Only - Buy (Pay-What-You-Want)
White vinyl LP with full-color jacket. Includes a CD too. Download comes in your choice of 320k mp3, FLAC, and several other formats.
Also available at these Seattle area record stores:
Sonic Boom (Ballard, Capitol Hill)
Wall of Sound (Capitol Hill)
Everyday Music (Capitol Hill)
Jigsaw Records (Ballard)
Older releases are available here.
Info/Press
Johnny and Ola started making music together in 2003, on a Tascam 4-track in a tiny bedroom in Bothell, Washington. They now write and record in a white brick bunker by the river. Their music is inspired by old analog synthesizers, unplanned samples, giant vintage bass drums, and faded colors. Bands in a similar frame of mind include Boards of Canada and Mum. Others have said that "Cock and Swan's heavy electronics and keyboard/bass grooves reference Tortoise, Portishead and Brian Eno." (Erik Neumann, The Seattle Weekly) They often produce, record and play live with other Dandelion Gold artists, such as Shana Cleveland (of The Curious Mystery) and Brad Dunn (founding member of The Curious Mystery).
First Listen - XLR8R

"Johnny and Ola translate their penchant for analog synths, ethereal vocal sounds, and polyrhythmic drum patterns into something that sounds like the lovechild of Stereolab and a good part of the Thrill Jockey roster."

...Read full article here.
You Better Unrecognize (Jason Baxter/The Stranger)

"The first words sung on Bothell duo Cock and Swan's new full-length Unrecognize are "the ghostly lonely feel." It's an appropriate turn of phrase for establishing the record's precipitationist vibe. Unrecognize has an uncanny, understated beauty that recalls certain well-worn clichés, like grey skies or rain-stippled landscapes. Just don't expect the album to wallow in a mire of mopey piano and maudlin string swells—at times, Cock and Swan's music is more cosmically akin to The Sea and Cake, if that band were filtered through a prism of, well, ghostly loneliness.
...
Unrecognize exhibits considerable range—it vacillates between bucolic folksiness and urbane electronica without ever compromising its consistently spooky splendor. The record also includes pointed allusions to some of Cock and Swan's primary influences. "Holding On" opens with a slick, respectfully rendered riff on classic Boards of Canada, and tenders some ethereal backing vox which strongly recall the icy Rumraket band Cacoy. As the album progresses, certain elements begin to take precedent; fastidiously chopped vocals, boom-thwak percussion, and breakbeats all figure largely."

...Read full article here.
Seattle Subsonic

"...the two make fine use of soporific, squiggly synths, blurry and beguiling vocals, lonely guitar pluckings, patchwork electro touches, and the omnipresent ghostly undercurrent...cozy and eerie all at the same time."

...Read full article here.
Fensepost

"If you're new to Cock And Swan and you dig that dark experimental electronic sound, you'll enjoy Unrecognize. If you've been a longtime fan like me, it'll absolutely blow you away."

...Read full article here.