Releases
RECESS TANGLE VOL. 2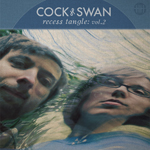 NOW AVAILABLE HERE (name-your-price)
Recess Tangle Vol. 2 is the SECOND volume of remixes from Secret Angles, with remixes by Cex, Graintable, Big Spider's Back, Snowman Plan, Suttikeeree, Chants, Stem Collector, Domokos, Brian Binning, OCnotes, Korma, and Tokyo Bloodworm.
RECESS TANGLE VOL. 1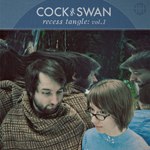 NOW AVAILABLE HERE (name-your-price)
Recess Tangle Vol. 1 is the first volume of remixes from Secret Angles, available as a free download from Hush Hush Records on 11/5. Includes remixes by Hetrik, Kid Smpl, IG88, DJAO, William Ryan Fritch, Braxton/Palmer, Little Weather, Hudson Alexander, WD4D, Cex, Brian Binning, and Lam Suet.
SECRET ANGLES by Cock & Swan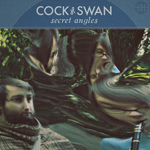 DOWNLOAD HERE (name your price)
VINYL INFO:
We will have a limited number of vinyl LPs available in January 2014.
SHAPES IN THE SHEEN EP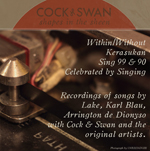 DOWNLOAD HERE
Shapes in the Sheen is a re-imagining of songs by local Northwest artists, with instrumentals/backing vocals by Cock & Swan and new performances by the original vocalists.
MOONCHILL EP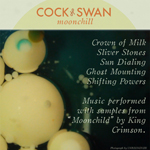 DOWNLOAD HERE
Moonchill is an EP by Cock & Swan constructed from samples of "Moonchild" by King Crimson.
STASH by Cock & Swan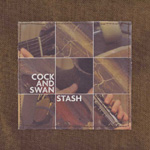 Downloads / Limited Edition CDs from Lost Tribe Sound
Limited Edition comes in a hand-aged, hand-stitched cloth-bound book and is lined with banana bark, lokta, and mulberry paper. Also includes bonus tracks, remixes, and download of album.
Standard Edition CD package and download are also available.
Older releases are available here.
Info/Press
Now a decade into their partnership, Johnny and Ola started making music together in 2003 on a Tascam 4-track in Bothell, Washington. Reconfiguring their white brick bunker by the Slough (aka the Sammamish River) into a makeshift studio, they wrote and recorded all of Cock & Swan's material within these close confines. Johnny also began lending his recording and engineering skills to numerous local musicians, notably to Shana Cleveland and her 60s-steeped surf/pop group La Luz. A recent move to West Seattle promises grander musical endeavors for the duo, yet the Cock & Swan sound remains firmly rooted in a hazy, enveloping aesthetic propelled by analog synthesizers, unplanned samples, muted drums, and faded colors.
Huffington Post - Best of 2013

"...with their latest effort, the band has entered the heavyweight division...Analog synths, breathy vocals, mesmerizing loops of sound combine to create one of the most enchanting records of 2013."

-Todd Cochran (Read full article here.)
KEXP Song of the Day Podcast

"There is a sincere mystery to what [Cock & Swan] produce, often using electronic-based music, musing and ethereal vocals, all wrapped is a sense of artistic (and playful?) demise."

-Jacob Uitti (Read full article here.)
City Arts - Album of the Month

"Those teenaged savants who make musical magic on the 4-track in the bedroom? Cock & Swan is what happens when they grow up."
[Cock & Swan] retain some of the experimental spirit and overdriven, tape-saturated grittiness of earlier days, which they nod to with the cassette deck boot-up that opens their third album, Secret Angles. This is the chief tension of Cock & Swan—polished dreaminess with an undercurrent of raw and weird—and what makes Secret Angles such an enduring, interesting listen."

-Joe Garvin (Read full article here.)
Paste Magazine

"Featuring the haunting vocals of Ola Hungerford and the intricate multi-instrumentalism of Johnny Goss ... Cock &amp Swan resemble a drugged-down, more experimental Phantogram, somehow creating an eerie harmony out of unconventional and often discordant instrumental layering."

-Ryan Bort (Read full article here.)
No Fear Of Pop

"...deliriously pretty and lush, with minimal electronics setting the stage for Hungerford's dreamy vocal melodies. Their third full-length album, Secret Angles...is full of intricate and complex electronics drawing inspiration from trip hop and ambient sounds."

-Kelsie Brown (Read full article here.)
Fensepost

"Songs like "Animal Totem" are meticulous in their electronic-based production. There is great detail, but it's not overwhelming. Likewise, Ola Hungerford has blossomed from her slightly hunched, somewhat withdrawn youth into a head-up proud vocalist. The songs - and her vocals - are still shrouded in dark, minimalist electronic meets airy, whispery bedroom pop."

-Andy Fenstermaker (Read full article here.)
Alarm

"...an album of washed-out ambience, breathy vocals, glitching syncopation, and pop nostalgia."

-Scott Morrow (Read full article here.)
TRUANTS

"Secret Angles marks a significant step forward for the duo's dark, intricate focus on vocal-laced pop and if you ask us, it fits in nicely alongside the beach-faded pop of Tycho."

-Tim Willis (Read full article here.)
Wajobu

"Secret Angles moves between many different genres: progressive, electronica, acoustic and electric folk, house, dance and many others - it doesn't dwell in one realm for long, but the album is not at all disjointed - it's quite cohesive."

-Walker Burns (Read full article here.)